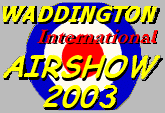 THE AIRSHOW
Sponsored by the Air Force Board of the Defence Council, the Waddington International Air Show is the largest of the RAF's official air shows. The venue has acquired a hard-earned reputation amongst visiting pilots and aircrew for its excellent hospitality, and is consequently always very well supported by aircraft from around the western world - many not normally seen in the UK.

No less than 79 aircraft supported the aircraft static display at Airshow 2002, with 56 different types from 13 countries. The 7-hour flying display comprised 31 different aircraft types from 10 countries, and included 4 international display teams.

The year 2003 marks a number of significant anniversaries in the aviation calendar. It is 100 years since the Wright brothers took off in the first aeroplane from Kittyhawk, North Carolina on 17th December 1903.

It is the 60th anniversary of the Dams Raid and also the 60th anniversary of the formation of the Royal Air Forces Association. RAFA will of course be at the show celebrating their big event.
At Airshow 2003 they plan to hold a "BIG CATS" Gathering following the success of our Tiger Gathering 2 years ago. This will include not only aircraft from Tiger and Lion squadrons but also aircraft types named after big cats. They intend that the rest of the static line-up and flying display will be as impressive as in past years.